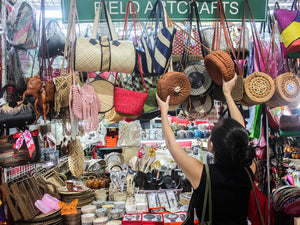 RECOMMENDED JUST FOR YOU!
Outstanding Property 🏆🏆🏆🏆🏆
Best Price and Excellent Value for Money! 👍💳🏷️
Prices are subject to change based on the current season, click Book Now button to see the updated pricing for this business property or service.
⏱️ Whole Day(s) Duration
⚡ For Flash Confirmation
📝 Priority Access with Paid Invoice
🎟️ Show Printed or Mobile Paid Invoice
🚫 No Cancellations or Refunds
🚫 First Come First Serve Basis
📅 Valid Only on the Selected Date Upon Booking
📍 Business Location
5/F Mavenue Bldg., 7844 Makati Ave., Poblacion Makati City Metro Manila, Philippines
📝 Description
Tanlines PH is a Manila-based travel company for discerning travellers that provides transportation access to unique and sustainably-focused experiences from Manila.
Nothing beats the buzz of strolling around stall-lined streets, and striking up a good bargain. It's the hunt for those eclectic treasures coupled with "I-can't-believe-I-found-this" moments that transform our local markets into an exhilarating experience. Spend a weekend excursion with Tanlines to off-the-beaten-path shopping locales around the metro that offer quirky, locally-crafted products at very affordable prices.

Dapitan is our first stop. With its pop culture decor, home furnishings, and vintage finds, roaming around the area is like stepping into another era. Next, we'll head on over to Dampa, the city's cleanest wet market to pick fresh seafood and tropical produce to fill our tummies. Ending with a bang, the mecca of Filipino bargains—Greenhills Shopping Center—is our last stop. Pearls, electronics, local handmade crafts—you name it, they have it.
Pre-Trip Reminders (Things to Wear/Bring)
Comfortable Attire

Body/Sling Bag

Eco-Bag/Tote

Water Jug

Cash (Preferably in different denominations)
🎗️ Reminders
⏱️ Operating Schedule-1: 9:00 AM - 6:00 PM (Mon-Sun)
🚫 Business Cut Off Time: 11:30 AM 
👮 Security: On-Site
🙍 Front Office: Limited Hours
🚘 Parking: Yes
🛁 Restroom: Available
🌙 Restaurant or Snack Bar: Available
🧒🏻 Access Fee Adults & Kids: P1,295.25 Per Pax
💳 Service Charge & Taxes: Inclusive
🚭 Smoking Restrictions: Designated Smoking Areas in the Tanlines Lounge (Meet-Up Point)
⚡ Confirmation
Once the booking and payment has been made, an Email Confirmation will be sent to you instantly with the attached Invoice in Paid Status.
Kindly check your Spam Folder or notify us via Email marketplace@spasify.com in case you do not receive an email from Spasify Marketplace.
🚪 House Rules, Regulations and Other Policies
Meet-up is at the Tanlines Lounge for Pre-Trip Briefing.

Trips run a regular and strict schedule. As such, we encourage all guests to come on time. Waiting period for those coming in late will only be 15 minutes, otherwise, the booking will be considered as a no-show.

Save paper. Please bring only the screenshot of your voucher and individual IDs per guest.

Designated Smoking Areas in the Tanlines Lounge (Meet-Up Point)
🚫 Property Cancellation and Refund Policy
In case of no show on the scheduled date of the trip, the travel pass shall be voided and no refunds will be issued.

In case of medical emergencies (should be notified at least one day prior to trip), Customer should present a medical certificate to qualify for a one-time reschedule subject to price difference depending on preferred reschedule date. Should the Customer be a visiting traveler and will be unable to reschedule due to flight conflict, he/she must provide a copy of flight reservation details together with the medical certificate subject for review and approval of the Travel Service Provider.

Travel Service Provider may cancel trips in the event of Force Majeure. In such circumstances, the Travel Service Provider will inform the Partner and Customer as early as possible and the Customer may opt for a reschedule (subject to price difference depending on preferred reschedule date) or refund.
🚫 Spasify Marketplace Cancellation and Refund Policy
If the Guest wishes to cancel same day, advance and/or bulk reservation after Spasify Marketplace received the Guest payment, the booking fee and other related charges is non-refundable. The booking fee, entire access, booking, purchase or stay may still be charged depending on the Merchant Partner policy that the Guest agreed to at the time of their reservation. To Learn More please visit our Reservation & Cancellation Policy or Frequently Asked Questions
Disclaimer: Spasify Marketplace will not be held responsible for any inaccuracies. It is the responsibility of the Partner Independent Service Providers, Merchants, Salons, Spas, Hotels, Resorts and/or other Independent Business Properties to assure and maintain the correctness of its own property or service description, pricing, photos and other related business information.​​